Roof Racks Hyundai ix35

There are plenty of options for roof racks to suit the Hyundai ix35. Refer to the table below which show the racks available depending on whether your car has raised rails that run along the roof or a plain roof. The ix35 Highlander and Elite models have rails and the Active model has the plain roof. Also of note is that the panoramic sunroof usually fitted to the Highlander model will collide with low profile roof racks so note the comments where these racks may not be an option for your vehicle.
The table below will give you the prices for the racks and our fitting service to install racks on the Hyundai ix35. For more details of individual racks click on the small image of the roof rack.
Find Hyundai ix35 Tow Bars here
Date
Vehicle description
Make

Part #
Rating KG
Price
Install
Comments
2010-2015
Hyundai ix35 WITHOUT factory rails
S6-K522
75

S16-K522
75

DS126B-DK201
75
RLKVA-2xVA126-DK201
75
RV0357
75
7205-7215/7215-5134
75
7105-7114-5134

75

2010-2015
Hyundai ix35 WITH RAISED factory rails
X54
65

(NOT glass roof)

S54
75
S66
75
RSB03/3-RSK01
75
SX100-VA126
75
7104-7113
80
2014-2015
Hyundai ix35 WITH SOLID rails

S5-K505

60
S16-K505
60
7106-7112-186024
60
7206-7214/7213-186024
60
Gallery: Roof Racks for ix35 Without Rails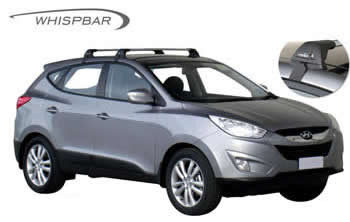 Whispbar S6-K522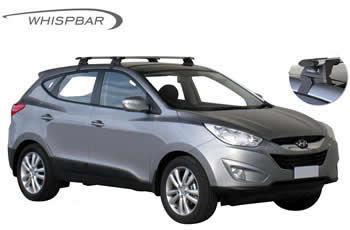 Whispbar S16-K522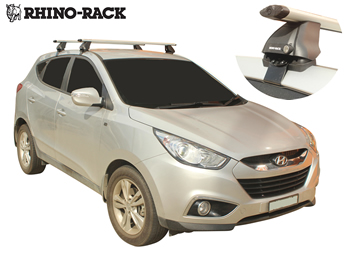 Rhino Rack fitted to ix35 without rails
Gallery: Roof Racks for ix35 With Rails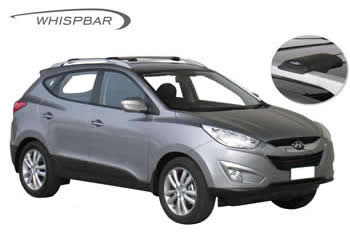 Whispbar S54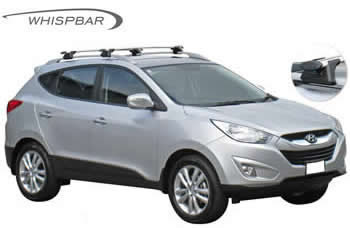 Whispbar S66