Rhino Rack Roof Rack - ROC25 Sports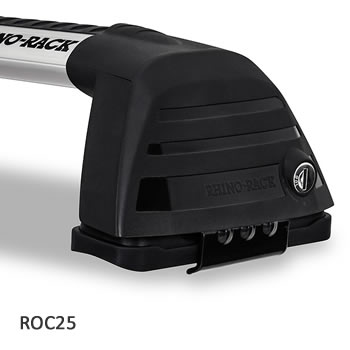 The Rhino Rack ROC25 sports roof rack is a low profile rack with flush ends to the cross bar to give a sporty look. It has a secure grip on the vehicle by clamping to the roof return into the car door openings.
The roof rack leg sits on a soft rubber pad and the bracket has a rubberised paint to prevent damage to the vehicle roof.
The ROC25 sports bar has an oval cross section to reduce drag and noise.
The cross bar incorporates a T-channel that can be used to fit accessories that have a T-bolt attachment.
---
Specifications
| | |
| --- | --- |
| Cross bar colour | Silver or Black |
| Ease of fitting first time | Allow about 3/4 hour for assembling and fitting a pair of cross bars the first time on most vehicles. |
| Ease of fit/removal | Removal from the vehicle can usually be achieved in less than 10 minutes and refitting about 15 minutes |
| Security | Key locking end covers. |
| Transferable | The ROC25 sports is vehicle specific and is not suited to transferring to other vehicles. |
| Warranty | Lifetime manufacturer's warranty |
| Comments | |