Rhino Fixed Mount Roof Rack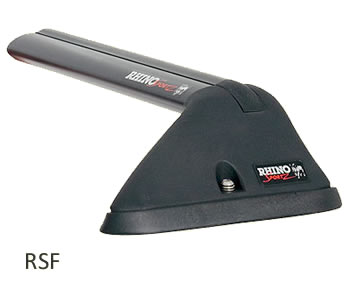 The Rhino Fixed Mount roof rack is a smart sports roof rack that can often be used when removable roof racks are not suitable. For example 2 door cars often lack a suitable roof return to hook an attachment clamp on for the rear bar.
The rack has 4 permanently attached pads that the roof racks can be fixed to giving a strong and secure permanent roof rack system.
The pads are securely attached to the roof with non-corroding rivets after first treating the holes with zinc paint and sealant. You can read about the fitting process on our blog
---
Specifications
| | |
| --- | --- |
| Cross bar colour | Black |
| Ease of fitting first time | Allow about an hour for assembling and fitting a pair of cross bars the first time on most vehicles. |
| Ease of fit/removal | The cross bars are secured with a single screw each end. Both removal and refitting can usually be done within 10 minutes. The mounting pads remain afixed to the car. |
| Security | The rack is secured with anti tamper fastenings that require a special tool (supplied) to remove. |
| Transferable | Rhino Fixed Mount roof racks are vehicle specific |
| Warranty | Lifetime manufacturer's warranty |
| Comments | |
Roof Rack gallery